Detox in Colorado


Choosing the Best Detox For You
At first, choosing a detox in Colorado can seem overwhelming. There are so many options to choose from — how do you know which detox center will best meet all of your personal needs? When it comes to choosing a detox there are several important factors to consider. You want to make sure the detox you choose focuses on more than physical stabilization. For many, medical detox is only the first step on the road to recovery. In order for sobriety to be maintained, a person needs to undergo treatment once they have gone through drug or alcohol withdrawal. Because of this, choosing a detox center that helps with rehab placement is often ideal. At CuraWest we offer a highly individualized and integrated detox program in the heart of Denver, Colorado. We prioritize the unique clinical and medical needs of each individual client while actively preparing them for the remainder of their personal recovery journey. To learn more or to get started with our simple and straightforward admissions process, contact us today.
What Are Your Detox Goals and Needs?
You can narrow down your search significantly by determining which elements of a medical detox program are important to you. Are you looking for a program that offers therapy in addition to medication assisted treatment? Are you looking for a medical detox that is part of a larger addiction treatment network, so you can easily transition into the next appropriate level of care once you have been physically stabilized? When choosing a detox in Colorado we encourage you to ask yourself the following questions, which are going to help you hone in on your personal detox goals and needs.
Does the detox center specialize in treating withdrawal symptoms associated with the kind of substance(s) I was using?
Does the detox offer additional addiction services like case management and therapeutic care?
Does the detox offer dual diagnosis services?
Does the detox offer medication assisted treatment options?
Does the detox center offer personalized aftercare planning services?
Does the detox center accept my health insurance?
If I am not currently insured through a regional provider in Colorado or a major national provider, does the detox offer additional coverage options like self-pay and private pay?
Will I have to wait a long time to be admitted, or can the facility admit me immediately?
Will the detox center help me make a smooth transition into the next appropriate level of care, whether that is inpatient rehab, partial hospitalization or outpatient treatment?
Does the detox offer focused and individualized care, or do they treat all of their clients the same way regardless of personal backgrounds and history with substance use?
We Are Here For You
Let Us Help You Heal
Our Drug & Alcohol detoxification experience is second to none.
Learn how we can help by speaking with one of our Treatment Advisors today.
Factors to Consider When Choosing a Detox in Colorado:
Inpatient vs Outpatient Detox
When choosing the best detox center in Colorado, we recommend looking for an inpatient detox as opposed to an outpatient detox. Inpatient detox provides the following benefits:
You have 24/7 access to professional medical care, meaning withdrawal symptoms can be effectively treated as soon as they develop.
Vitals are checked regularly to ensure physical health remains stable.
You are in a secure and closely monitored facility, meaning the risk of returning to drug or alcohol use is reduced significantly.
In addition to standard detoxification methods like medication assisted treatment, you have access to individual, group and family therapy sessions, case management services and personalized aftercare planning.
You are living (short-term) in a facility designed with client comfort in mind, and you have access to a range of comfort-based amenities geared towards making your detox experience as positive as possible.
Daily, chef-prepared meals are provided, and clients have 24-hour access to a fully stocked kitchen, promoting a faster return to physical health through adequate nutrition.
Our Drug & Alcohol Detox Services Include
---
Choose a Licensed Colorado Detox
We also recommend choosing a detox center which has been both licensed and certified. At Curawest we have received the following:
Certification and Licensing through the State of Colorado – Being licensed and certified through the State of Colorado means our practices have been observed and approved by state standards, and we consistently adhere to all state guidelines regarding medical detoxification and inpatient detoxification.
LegitScript Certification – Being LegitScript-certified means that an addiction treatment facility has been evaluated and certified to operate safely and legally. LegitScript also performs ongoing monitoring throughout an addiction treatment provider's certification period to ensure compliance. The LegitScript seal displays "LegitScript Monitored" to reflect ongoing monitoring, which can be found throughout our website.
The Joint Commission Gold Seal of Approval – Earning an accreditation through the Joint Commission essentially means we hold ourselves to the highest possible clinical and medical standards. This is one of the highest accreditations a medical detox center can receive. To learn more about our recent accreditation, see our related blog post.
Ready To Begin Your Drug & Alcohol Detox?
We Offer A Safe & Effective Program
Don't let Drug & Alcohol addiction control your life.
Call us today and let's get you started on the path to a better you.
Importance of Licensed Drug & Alcohol Rehab Staff
When choosing a detox center in Colorado, make sure you are taking the experience of staff members into consideration. Are clinical and medical staff members licensed? At CuraWest our staff is composed of licensed medical practitioners, licensed therapists and experienced psychiatric professionals. Many of our support staff members have been actively engaged in recovery for years, allowing them to consistently come from a place of compassion and understanding.
Pick a Colorado Recovery Hub for Detox
There are numerous recovery resources readily available in Denver, Colorado. Not only does the beautiful natural scenery present countless opportunities for sober, recreational fun (from hiking the mountains to paddle boarding and kayaking nearby lakes and rivers), but the city itself is home to a range of recovery meetings and sober support groups. For many of our clients, medical detox is the first step on a multi-phased continuum of addiction treatment. If a client chooses to transition directly into a higher level of care there are many wonderful options in the Denver area.
Insurance & Costs
When choosing a detox center in Colorado consider how you are going to cover costs. Reputable detox centers, including CuraWest, work closely with most major regional and national health insurance providers. If you are currently insured there is a good chance some — or all — of the treatment services we provide are either covered partially or in full. We offer free, no obligation insurance benefit check — contact us today to begin. We also offer self-pay and private pay options for those who are uninsured or underinsured.
Private vs Public Detox Centers In Colorado
Entering into a state-funded detox facility can be tricky. You might end up waiting weeks or months for a bed to open up, and once it finally does you receive the same, standardized treatment options as everyone else — with little to no focus placed on follow-up care. For these reasons we recommend choosing a private detox center in Colorado like CuraWest. The image to the right features our spacious client lounge, where our clients can mingle and relax in between therapeutic group workshops.
Benefits of private detox include:
Comfortable, homestyle retreat accommodations including private and semi-private bedrooms, well-appointed common areas and a spacious kitchen and dining area (pictured to the right).
Case management and aftercare planning services which make the transition from detox into the next appropriate level of care easy and stress-free.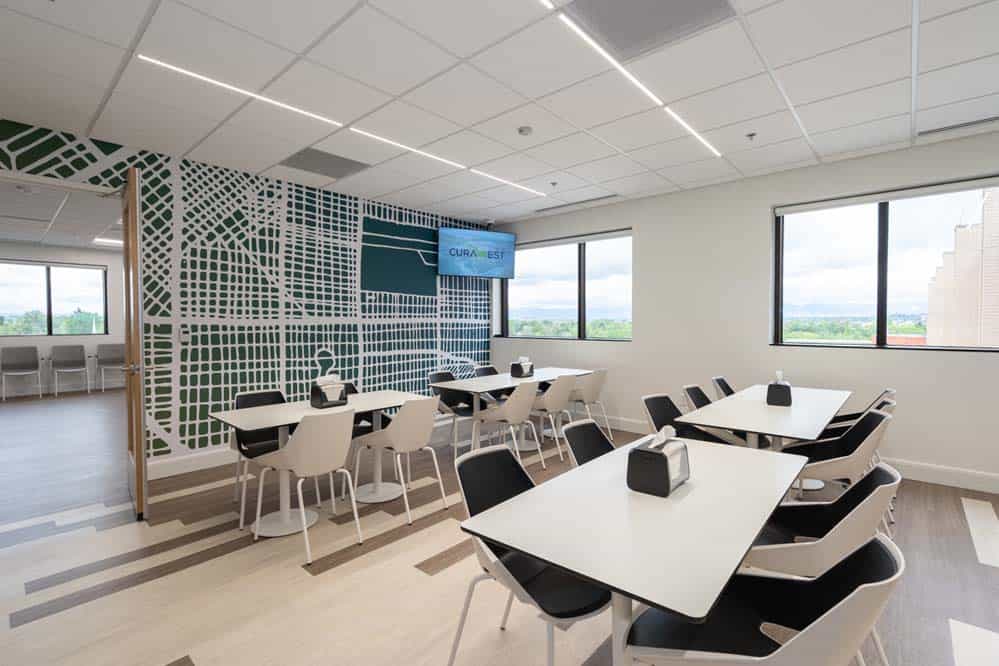 One-on-one care with a licensed medical practitioner, an individual therapist and a psychiatric professional.
More focused and individualized treatment options which take your unique, personal needs into careful account.
A combination of evidence-based detox services including medication assisted treatment, intensive behavioral therapy, psychiatric care and holistic treatment options.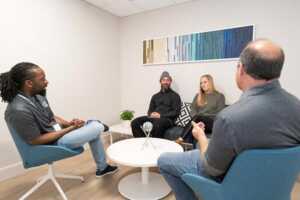 Begin Healing Now!
Have A Call With One Of Our Treatment Advisors
Caring & Experienced Staff

Fully Licensed & Accredited 
Why Choose CuraWest for Detox?
At CuraWest we prioritize the needs of each individual client. In addition to helping our clients undergo a safe and pain-free drug and alcohol withdrawal, we take every step necessary to prepare them for continued success in sobriety. Our program is about much more than physical stabilization — we equip our clients with the tools and resources they need to make informed decisions moving forward, as they continue along in their personal recovery journeys. We believe effective detox services should be readily available to those in need, which is why we have developed an admissions process that is simple, straightforward and can be completed in under 20 minutes from start to finish. During our initial phone call we begin with a brief pre-assessment, which helps our clinical team determine which detox methods are going to be the most effective for you or your loved one. We then provide a free, no obligation insurance benefit check and arrange local transportation to our Denver, Colorado detox center. All you have to do is contact us today, and we will take care of the rest.